Acoustic Cum Fire Doors
Mortise Dead Lock Set with Cylinder- complete with D Shape Pull handle for Push / Pull Operations
Acoustic Cum Fire Doors
| | |
| --- | --- |
| Door Type | : Wooden Fire Rated Door |
| Fire Rating | : 60mins/ 120 mins |
| Shutter Thickness | : 77 mm |
| Criteria | : Stability, Integrity & With Insulation |
| Testing Standards | : BS 476 Part 20-22, IS 3614 Part 2 |
| Frame Size | : 140 x 85mm |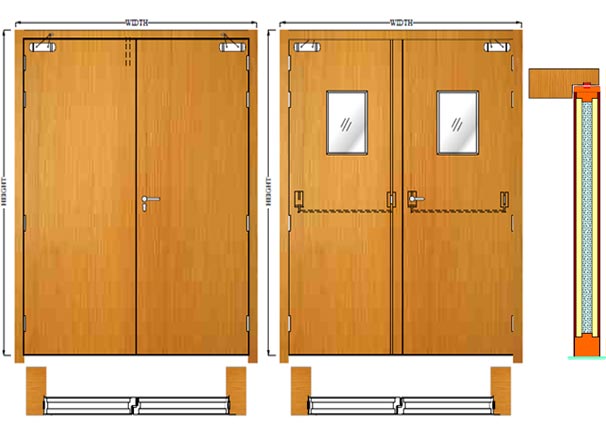 Construction Details
Wooden door Frame made out of Hardwood Mirandi Teak/
Teakwood / Ivory coast Teak asper requirement.
Door Shutter – Internal Frame made of Hardwood Teak
with facing of 6 mm thick commercial ply or veneered ply
on both face .
Shutter Insulation – Sandwich type Fire rated mineral wool
treated with fire retardant paint & Calcium silicate board.
Shutter Thickness – 77 mm.
Intumescent fire/smoke seal 20 X 4mm or 10 X 4mm at
all three sides of door frame and shutters excepts bottom.
Recommended Hardware
SS Ball Bearing Hinges – SS 304 of
Size 102mm x 76mm x 3mm
Door Closer – Fire rated
Tower / Flush Bolt
Optional Hardware
Mortise Dead Lock Set with Cylinder- complete with
D Shape Pull handle for Push / Pull Operations
Mortise Sash Lock with Cylinder –
Complete with Lever Handle for Push / Pull Operations
Fire Rate Panic Bar – Push Side Operation
Fire rated Panic Trim – Pull Side Operation